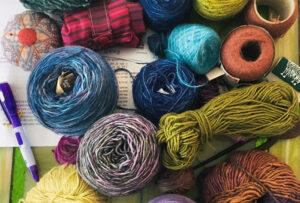 The age old practice is that women get together to knit, and in the process share stories, knitting tips, personal problems and gossip – all is interwoven into a practice that soothes the soul by sharing, not just the tactile and esthetic sensations of the yarn, the colors, the neat stitches, and the finished product, but also the inner landscape of the color and heat of joy, disappointment, remembrance.
The Contemplative Knitting weekend at Sky Lake on January 26-27, 2008 proved that this was all true. Eighteen of us gathered (all women, although one father brought his daughter): some were experienced knitters but had not meditated; some were experienced meditators but novice knitters. Opening our day on Saturday with meditation and shamatha yoga, we moved into workshop mode as Karin, our knitting instructor and guide, asked us to bring out our balls of unwanted yarn. We went around the table and each participant told the story of the yarn – stories of unfinished and unwanted garments, memories of mothers and friends who had died, happy and sad stories that were coupled with colorful balls and skeins. We then chose yarn to work with; each person taking someone else's unwanted balls and grouping them into small treasurehouses on the table.    
After lunch, we all cast on 50 stitches (Karin explaining that this was an atypical number of stitches) and knit, using whatever yarn and stitches that we wanted. This seemingly permissive instruction allowed us to take pure joy in the yarn, its color and texture, and the slow but steady "progress" of a piece of knitting forming beneath our hands. In the process we shared knitting tips (how to make a lacy design with a "yarnover"), compared stitches and technique, talked about our shared experiences of knitting and of life. A surprising moment came when we were asked to pass our knitting to the person sitting to the left of us. The precious pieces we had labored over were in new hands, and we experienced the joy and anxiety of letting go, as well as the freshness of working with a piece not of our own making. We closed the afternoon with meditation practice, another punctuation to a sensory-filled day.
On Sunday we continued with knitting, it was now difficult to find ownership in any one piece. I saw my unwanted yarn cheerfully ornamenting other pieces. I saw pieces that I had worked on, my stitches were inserted between others' work. Some of the pieces were large and intricate, others smaller, some elegant with silky yarns. As we made our pieces, we talked about how we had experienced and worked with the disappointment and dissatisfaction that had arisen as the result of our knitting.  Stories from the past, as well as reflections of our workshop experiences were recounted.  For some knitters, the pieces made at the workshop, stitch by stitch, were not as beautiful as had been hoped.   Others spoke of unfinished and unworn sweaters (painstakingly made), and of being quarantined from the local knitting circle because of moth infestations. We remembered our mothers and those who taught us to knit, as well as relatives and friends who had given us yarn. We ended our workshop with lunch, and a shared aspiration to meet again next year (or at least at the October Rhinebeck Sheep and Wool Festival!).
There was something very satisfying about the workshop – the slow steadiness of the knitting, the occasional meditation and yoga, the sharing of design ideas, colors, technique. The hopes, fears, mourning, surprises, were all incorporated: the knitting providing a constant and tactile attentiveness, our hearts and minds free to unravel and intermingle, shared as a common piece of art.
Elaine Yuen
February 10, 2008